Helping Teens Capture their Dreams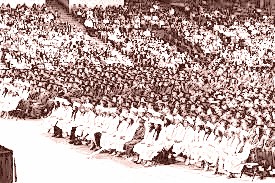 High School is GREAT. If you know how to use all the opportunities it offers YOU.
In communities across the country, there are free social services and educational programs available to support teens, their parents and schools.
The National High School Graduation Campaign will help students and high schools that participate in the campaign find these free community services and resources, and show them how to use them.
These services include:
For STUDENTS:
Tutoring,

career mentoring,

advance computer training,

study guides,  

job readiness,

peer mediation,

career internships,

test preparation,

high school course scheduling ,

free college admission workshops,

community services opportunities for college transcripts,

social support services for health and teen related stress problems,
For PARENTS:  
Support services in teen pregnancy,

drug and alcohol,

bullying,

juvenile justice,

internet safety,

parent to teachers and school counseling support,

free college admission workshops in financial aide and student loan planning,
Community social service programs for housing,

teen pregnancy,

drug and alcohol,

mental health,

drop-out prevention, 

educational support in class fund raising,

current teaching materials in Common Core,

STEM tools

school safety initiative, 

access to free college admission materials